The village is named after Giant Armadillo Hill. It is a Wapichan community with a few remaining families of the Taruma people.
The village is located in the Deep South Sub district in Region 9, and it is a forest edge community. There are over 812 persons living presently in the village. About another third of our residents work or live away from the Village temporarily. but return during holiday times and to visit family.
History
Our first settlements were located at Shaoramniz, Maratino, Tooro nau long before the Missionaries came (about 100 years ago).
Land Rights
Our Village has a land title that covers just a part of our traditional land. The land title was demarcated in 1998. The Village has submitted a formal application for extension of our land title boundaries that includes two tracts of our customary land. One tract lies to the east and covers our community forest land and the other lies westwards and covers savannah land. The results of our request for extension are still pending in 2017. The matter is being addressed as part of the formal talks between the SRDC and MIPA about our land and territorial claim, which has remained unresolved since independence from Britain in 1966.
Main Economic Activity
Farming, ranching, crafts, hunting, fishing, gathering non timber products, exchange labour, wage labour, Part time mining, Trapping and Trading wild life, extracting timber.
Some of our main balata camps are used today during hunting, fishing and gathering trips. These places include and are located on the Kwitaro River:
• Kapii wa'o (kaki wa'o, café)
• Chowirikad- pao
• Kauzkin baoko
• Zokotu wa'o wanoma
• Komaru baoko
• Kotar baoko
• Kaziman baoko
• Choun baoko
• Kara'i tozowan
• Namachidin wa'o wanoma
• Machiiwiz wanoma
• Chou chou – baoko
• Dunun wara wanoma
Main Ecosystems and Resource Areas
Marorra Naawa Village is surrounded by mainly Ite swamps, Savannah Hills, Savannahs, Bush Island, numerous streams and water ways and Forest.
Some Main Resource Areas
These areas are accessed through numerous path ways and lines cut by individual hunters and villagers, the areas closer to the village are used on a daily basis and the more distant areas are used on occasional seasons. Whiles travelling, some places are for resting places when going to more distant places on Rii wa'o like:
• Sapurudai taawa
• Roomi wa'o
• Pokorida wa'o
• Rii wa'o dakoru (izaura wa'o)
• Shii (Minau bao)
• Korichuwin dara ii
• Wiizun Wa'o
• Wadu wa'o
Services and Facilities
Education – Nursery and Primary Level
Health – Health Post equipped with staff and radio
Village Shop with radio
Church – 2 denominations – Roman Catholic and Christian Brethren
Airstrip- 2 miles, South East of centre of village
There is no internet connection in the village and there is no cellular signal in the village but can be accessed from places out of the village area.
Other Facilities are –
Guest house
WWA Building
Village Office
Market Complex
Sports Complex
Computer Building
Teachers Quarters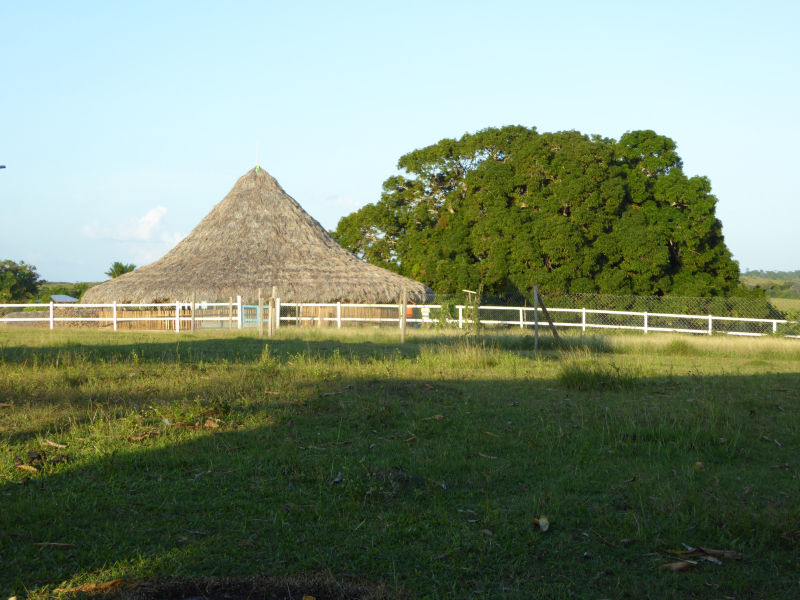 Governance
The Village is governed and managed by the Elected Toshao and Village Councillors. Toshaos are now elected every 3 years. Members of the village Council are also changed and nominated at election time. The executive body of the council is made up of the Toshao, Deputy Toshao, Secretary, Treasurer, Assistant Secretary/Treasurer.
Areas of Responsibility
Health
Education
Agriculture
Sports and Culture
Infrastructure
Environment
Social Issues
Community Base Organisations
Village Council
Community Policing Group (CPG)
Youth Group
Women's Group
Wild Life Club
Marorora naawa Sports Club
Maroro Culture Group
Activities that the community is involved in are The Annual August Games, Heritage Month Celebrations, Rupununi Expo and Christmas fair.
Community Projects
Community Development Project (CDP)
– Livestock Improvement
- Fencing Paddock
Future Village Plans
- Open a trail to Kwitaro River. This is to boost Ecotourism.
- Savannah Farming
- Cottage Industry
Community Environmental Initiative and Agreements
Marorora nawa village is a member of SRDC and all environmental issues will be dealt with jointly according to our territorial management plan and Environmental Monitoring system that the SRDC has embarked on. Also the village will work along with KMCRG to deal with Protected Areas and Tourism.
Wild Life Interest
Information pending.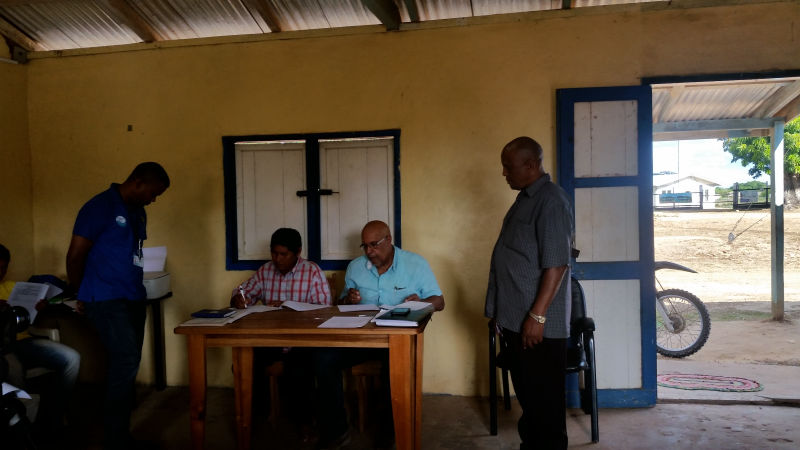 Toshao Ambrose Bento signs a contract with Dr. Van-west Charles of GWI on behalf of the village council for the distribution of pipelines to households in Maruranau Village.