"Katoonaru Iribi" means many bush island. Katoonarib English term.

Katoonarib was once a satellite of Sawariwao before it had its own schools, church and village council and its own administration. The first settlement was at Chibizai Toon naawa and at Mawarunao Airiisharda was one of the person owns other settlers.
FIRST TOSHAOS
1.Alfred 2.Christopher Alexander 3.Clive Turner 4.Habert Wilson 5.Gregory David 6.Marcus Alexander
LAND RIGHTS
The legal land security of our village has been a matter of confusion for a number of years. Due to land titling errors, the village actually occupies the legal title of Sawari Wa'o Village. The Village is seeking to resolve this land issue situation in coordination with SRDC, neighbouring villages and MIPA. Meanwhile, our village has identified a tract of land for traditionally owned, used and occupied by our village residents for recognition under legal land title. This matter is ongoing in 2017.
POPULATION
Katoonarib village have eighty-six (86) households and a population of four hundred twenty-six (426).
MAIN ECOSYSTEMS AND RESOURCE AREAS
Savannahs, hills, bush islands, rivers, creeks and swamps.
ECONOMY AND LAND USE
Farming: cash crops, peanuts and cassava.
Ranching: rearing of cattle, sheep, pigs and chickens, beef sales to the hot meal and some to our own people, sometimes to Lethem.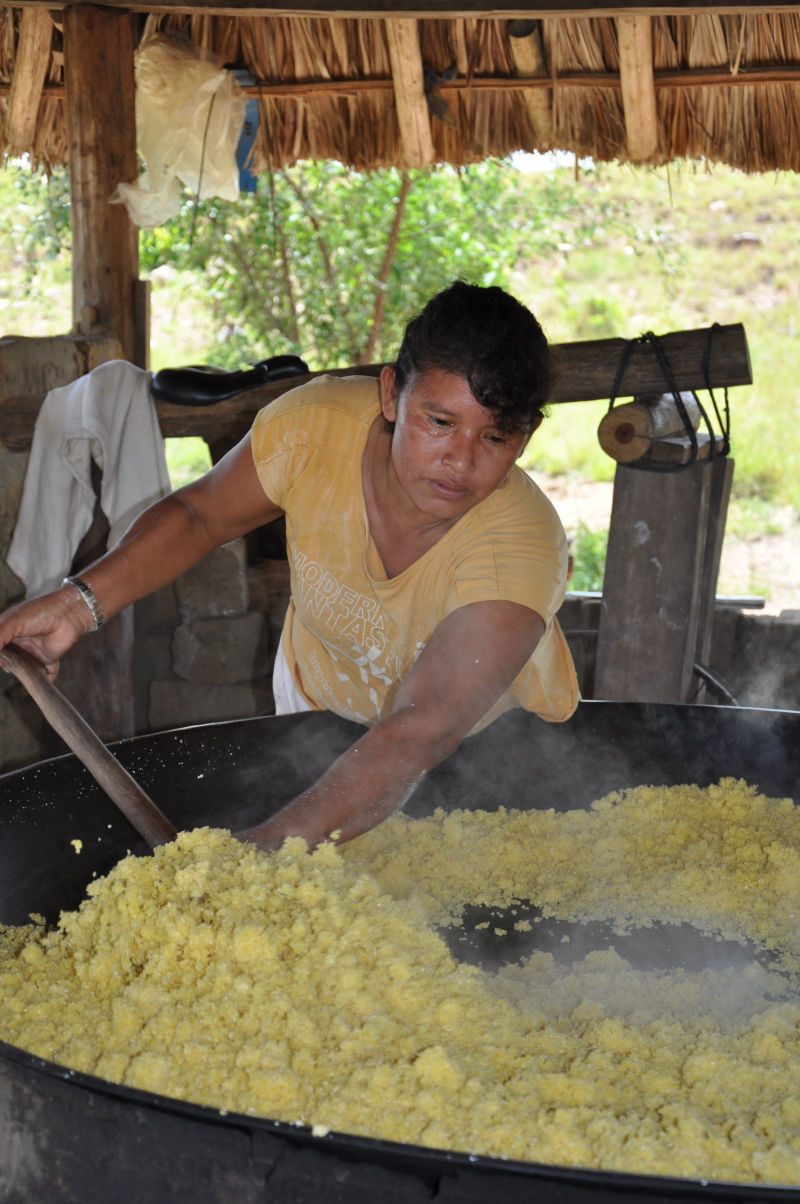 Making one of our staple foods known as farine (toasted cassava) in Katoonarub Village [Photo: SRDC]
SERVICES AND FACILITIES
Primary school, nursery school, health post, 2 play fields, village office, churches and 2 radio sets one at the village office ant the other at the health post. There is also some signal at some part in and around the village for mobile phones.
GOVERNANCE
Toshao DPT Toshao, Secretary and assistant, treasurer and assistant and five other councillors .
COMMUNITY ORGANISATION
Village council Church Team Youths womens group community policing group ranch manager hot meal staff sports club parents teachers friends acssociation health committee
COMMUNITY PROJECTS
Village farm: bush farming for Peanut plantation-and savannah farm for cassava. (SCPDA)
Village ranch: cattle rearing.(GTZ)
Hot meal and snacks for nursery children.
Village shop- using peanut money.
Hires of village tractor and vehicle.
FUTURE PLANS
Upgrading our village ranch. Buying and rearing of sheep. Improving on our savannah farming. Cassava processing. Women group quality farine making. Leather tanning, leather craft making. Forming a culture group.
WILD LIFE INTERESTS AND TOURIST ATTRACTIONS
Clay pot and untouched making slready have ready made wapichana clay pots. We can show our skills in pottery.
Rock carvings at kutuo orodo
Quality farine making.
HOW WE CARE FOR OUR RESOURCES
Make village rules on our resources uses. Awaken and educate our youths on our customary law. Abide and educate our people on our intercommunity agreement on the sustainable resources areas. Abide with our shared resources areas.
Photos needed –wapichan clay pot making.
Quality farine processing
Our rock carvings.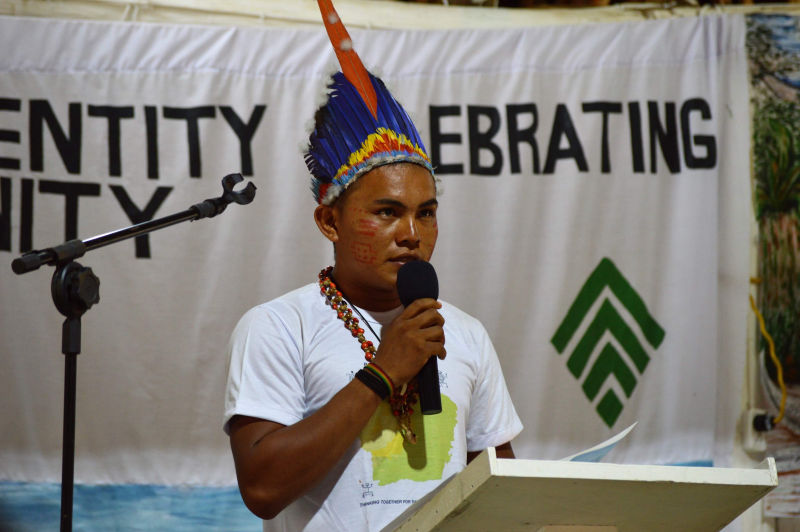 Solomon Cyril Chairman of the SRDC Youth Arm makes a presentation at Heritage Celebrations in Shulinab Village 2018