The name of our Village means Windy Creek Hill.
History
As of 1909, when first missionary came we already had permanent settlements at Atoro Baoko and Baizu Taawa along Iishi Wa'o. Early family names such as Paulin, Peter Ignacio, Marata, Edmund family, Comb back Andrew, Kadino'o (beard man) are still remembered today. Presently the said old settlement grounds are now used as farming areas by villagers like Silverious Jeffery (Sparrow), Achilles, Augusto, Owen Jeffery, Gilbert Edwin, Elias Peters, and Roland Griffith. There was also another settlement in an area that we call today Kabaun daun 'old house site'. Today just fruit trees like mango, cashew, jamoon and locus trees are visible, but these areas remain important to the village and we are deeply attached to those places.
Population
Approx 651 persons (2015)
Land Rights
The Village has a land title covering 116 Square Miles, which was demarcated in 1998. The existing title excludes a large area of our customary lands that have been traditionally owned, occupied and used by our Village residents and fore parents. Our Village Council has applied for extension of the title boundaries of the village and is awaiting a response from the government (2017).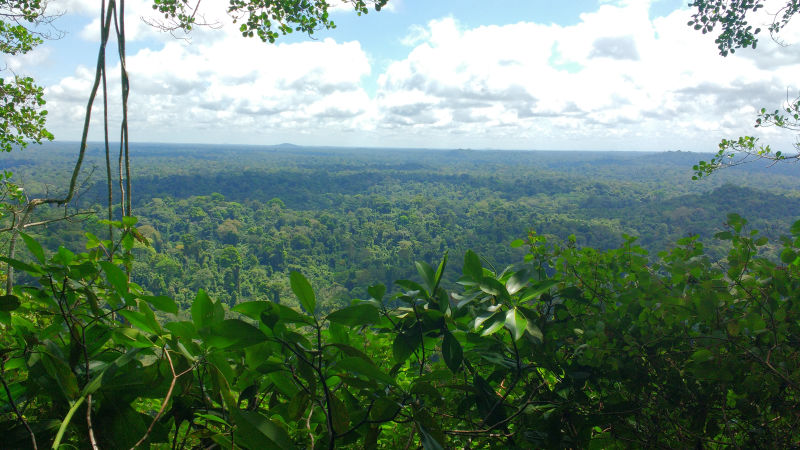 Tropical forest in Aware Wa'o Naawa land extension east of the Village. The forest is very important to us for gathering craft materials, bush foods, bush medicines and for hunting and fishing. The forest contains the former balata camps, settlements and trails of our foreparents, which we use up to today.

Governance
There is an elected Toshao and eight Councillors on a Village Council.
Land Use and Economy
Farming, ranching, crafts, hunting, fishing, gathering, exchange labour, wage labour, small-scale part-time artisanal mining. Trade in craft, horses, cattle, bush meat and local crops.
Services and facilities:
Kinder garden
Primary School
Teachers quarters
Village Ranch
Health hut and VHF Radio
Four churches
Air strip
Playing field
Peanut processing workshop
Village Office
Village Shop
Multi-purpose building
Village Tractor
Wind pump
Community based organisations
Parents and Teachers Association
Youth Group (Sports Group)
Church Group
Women's group
Community Projects
CDP
Paddock and pasture improvement
Hot meals programme
Reopening traditional farming grounds in the eastern portion of our territory
The Village is planning to build an eco-lodge for tourists located deep in our beautiful rainforest.
Wildlife and Cultural Heritage interest
There are numerous rare birds and animals in our area including cock of the rock and harpy eagle as well as the very rare bush dog. The remote forest to the east of the Village has a very high diversity of plants, animals, birds and insects which we have yet to document. The Village plans to document the wildlife in the future as part of our plan to care for the Wapichan Conserved Forest agreed by all our Villages in 2012 (see Documents page with SRDC Territorial Management Plan).
Our area also contains many important cultural heritage places including rock carvings, caves, and places with the remains of pottery, axes, beads and old house sites. The Village has put in place Village Rules to protect these places that are important to us and we do not allow visits by outsiders without prior permission of the Village and continuous accompaniment of visitors by our Village authorities.
How we care for our land and resources
We love our land and forest and we care for our mother earth according to our customary law. We do not allow industrial development on our land and we will not permit commercial mining with machinery and chemicals. Our forests in the eastern extension area forms part of the Wapichan Community Conserved Forest that we agreed to establish in 2012 (SRDC Territorial Management Plan - see documents page), but still lacks legal title and awaits formal recognition by the government and international agencies.
The Village Council has come to learn that there are major mining blocks imposed on our forest extension area and that these mining concessions have never been consulted with our village. The village of Awaro Wa'o Naawa has never given its agreement to these blocks within our forest, and we feel hurt. For this reason, any extension process must address this issue and ensure the removal of all mining blocks from our extended title area. We make this request as all of our villagers wish to protect the forest for our children and grandchildren and we do not wish to have destructive mining on our lands. Also we take this opportunity to call on the government to adopt policies that will include villagers in matters related to large scale extractive industries, including full respect for free, prior and informed consent.